When Israel's at-risk teens were struggling and needed support, you were there
Through guidance, love, and care at our Neighborhood Youth Centers, you helped give at-risk teens the tools they needed to put their lives on the right track.
No matter the challenge,
YOU WERE THERE
Throughout 2021, you stood by Meir Panim to bring Israel's needy one step closer to breaking the cycle of poverty. Here's a small glimpse at the impact YOU made on Israel's needy in 2021:
When the elderly, Holocaust Survivors, and families were stuck at home,
you were there
During the spread of the COVID-19 Delta variant, Israel's homebound population grew. Israeli families, the elderly, and Holocaust Survivors were afraid to leave their homes again and left without access to food. You were there to provide for these hungry people. Because of your support, Meir Panim safely delivered hundreds of food packages every day to anyone in need unable to leave their home.
Holocaust Survivor Day Center
When Holocaust Survivors were hungry and alone,
you were there
This year, with over 25% of Israeli Holocaust Survivors living in poverty and an additional 45% reporting they often feel alone, you were there to help give them the care they deserve. Because of your generosity, our Holocaust Survivor Day Center gave these precious individuals a place to eat a warm meal, receive important therapy, and provide Survivors—who would otherwise be alone—a community.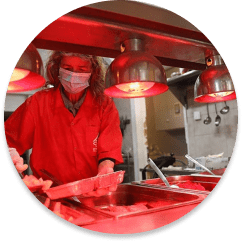 Restaurant-Style Soup Kitchens
When the hungry needed a warm meal,
you were there
In 2021, Israel's poverty rate showed a staggering 23% of Israelis live below the poverty line. When these people were hungry and needed a meal, you were there to help feed them with dignity at our Restaurant-Style Soup Kitchens. No matter what, anyone in need could grab a free meal in a comfortable restaurant-like atmosphere.
Neighborhood Youth Centers
When Israeli teens needed a helping hand,
you were there
After the recent war with Gaza, Operation Guardian of the Walls, you were there to help at-risk teens living near the Gaza border. These teens were hit hardest in dealing with the trauma of the war. Our Neighborhood Youth Centers in Sderot provided daily activities, guidance, vital counseling, and support to the teens that needed it most before, during, and after the war. Because of your support, our teens are on track to overcome their difficult situations and break free from the cycle of poverty.
When you're there, there's no end to the impact we can make
Through a pandemic, a war, and a year of economic uncertainty, you were there for Israel's needy and changed countless lives in the process. The thousands of people we helped feed, the teens we set on the right path, the Holocaust Survivors we cared for, and so much more simply would not have been possible without you.
And for that, we're forever grateful. On behalf of everyone at Meir Panim, thank you.
Let's make sure no family goes to bed hungry in 2022
We don't know what's in store for 2022 yet, but one thing we do know is that we're going to need your help. Just like you were there this year, we need you to stand with Meir Panim this coming year. Nearly half a million Israeli families live in poverty, and we need your help to make sure they don't go to bed hungry this coming year.
Donate to Meir Panim today to provide food for the needy, care for Holocaust Survivors, guidance for teens, and so much more in 2022.
EOY 2021
$103,888
of
$250,000
raised
Last chance for your 2021 tax-deductible donation!
In memory of my beloved mother, Malka bat Yekusiel Yehuda
this fulfills a pledge made on Nov 11 for the winter campaign
Provide food for the needy, care for Holocaust Survivors, guidance for teens, and more in 2022.